PLASTERING IN LISTED BUILDINGS

Staffordshire, Shropshire, Cheshire and Derbyshire
David Rudge Associates undertake a large range of plastering and rendering projects. We do this for historical, period and listed buildings throughout Staffordshire and the UK.
We are committed to restoring period buildings to their original style and design and we only use traditional materials suited to the period. If you require plastering in listed buildings, contact our expert today.
We carry out extensive research to ensure that the building materials that we use are suitable for the building.
We offer a restoration that works with the original property structure. We work alongside period property owners and listed building authorities. We are dedicated to restoring historical properties to their original beauty.
PLASTERING AND RENDERING
Our specialist team work on a range of historic and period properties. We offer plaster work renovations which include using the following traditional methods:
Historic Masonry and Plaster

Solid Run Work

Hydraulic Lime

Pure Lime Plasters and Renders

Repair and Conservation

Pattern and Mould Making

Fibrous Work

Free Hand Modelling

Cob, Wattle and Daub

Conservation and Surface Consolidation

Scagliola, Pargetting and Specialist Finishes

Internal Plastering Textured and Shaped

We work with traditional earth and lime plasters. This allows us to produce authentic Lime plastering and rendering. These are applied to listed buildings, period properties and historic features. Our plastering restoration services include: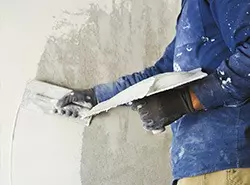 Decorative Plasterwork

Distempers, Lime-wash, Lime paint and Matched Colours

Complete Replacement and Patching

Chestnut, Oak and Riven Laths

Glass aggregates, clay plasters, etc

Interior restoration and Decoration

Mortar Render, Repair and analysis

Textures, Rough-cast and Self-Coloured Renders

Listed Building Plastering Restoration

For more information on plastering and rendering call us today on 01889 504219. For listed buildings and historical buildings, please don't hesitate to get in touch.
We work throughout Staffordshire, Shropshire, Cheshire, Derbyshire and beyond.